Now I really didn't think that breakbeat zombies were my jam, but after reading Gamespace's Pax East impressions of Double Kick Heroes, I decided to take a chance. The Walking Dead drained the life out of the undead for me, and I don't really have a taste for Santa Clara Diet. As it turns out, indie rhythm adventure, Double Kick Heroes, brings a little bit of life back to the end of days.
Developed by Headbang Club, and in early access, Double Kick Heroes is an odd mix of retro graphics, rhythm mechanics, metal, and the end of everything. Players who strap on their very own battle-axe find themselves part of a less than melodic five-piece, After an opening night turns a bit rabid, they quickly realize it is time to cut and run. What ensues is a race across a post-apocalyptic wasteland in search of a little respite.
This quirky, but ultimately charming depiction of the end, borrows the same road trip concept that worked so effectively in Gunman Taco Truck. 17 locations across a map provide a variety of musical battles and allow a pretty offbeat plot to trundle across the wasteland of, what appears to be middle America. Characters are all an exaggerated incarnation of obvious metal stereotypes, and the music featured is, equally, full of tropes. Everything from thrash, to hardcore, and German industrial is present and it is glorious.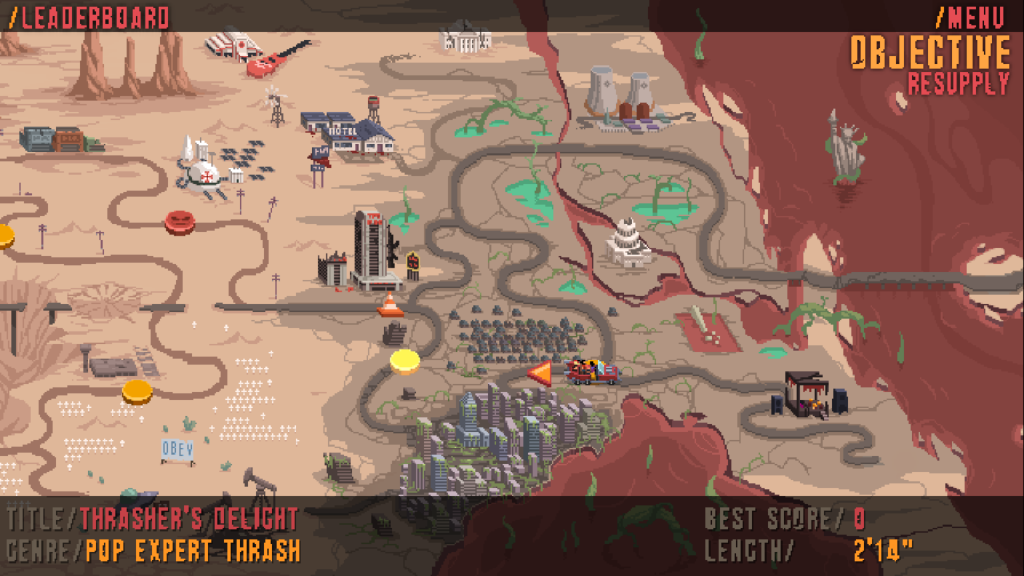 Clearing a path through the local wildlife, zombies, and the odd weaponized Tyrannous Rex is the band's own Cadillac, a drum kit, and a plethora of kickdrum triggered shotguns. Striking the right beat results in a storm of ammunition, and streaks of notes even upgrade these weapons. Fail to chain together enough notes and the band is likely to lose a few lives when the hordes catch up with your Cadillac. It's the kind of logic that only makes sense when you're playing the world's only 12 gauge drumkit, and somehow it does.
Mechanically, Double Kick Heroes is a relatively simple concept. Like most rhythm games, it relies on a solid soundtrack, great choreography, and a unique twist to enthrall audiences. Thankfully I love metal, the choreography is pretty solid. I was sold the moment that I found a glam metal legend that looks suspiciously like Marylin Manson, stuffed into a garage in the back of suburbia. Some replay value does exist, with a total of 5 different difficulty levels, a leaderboard system, and community creations.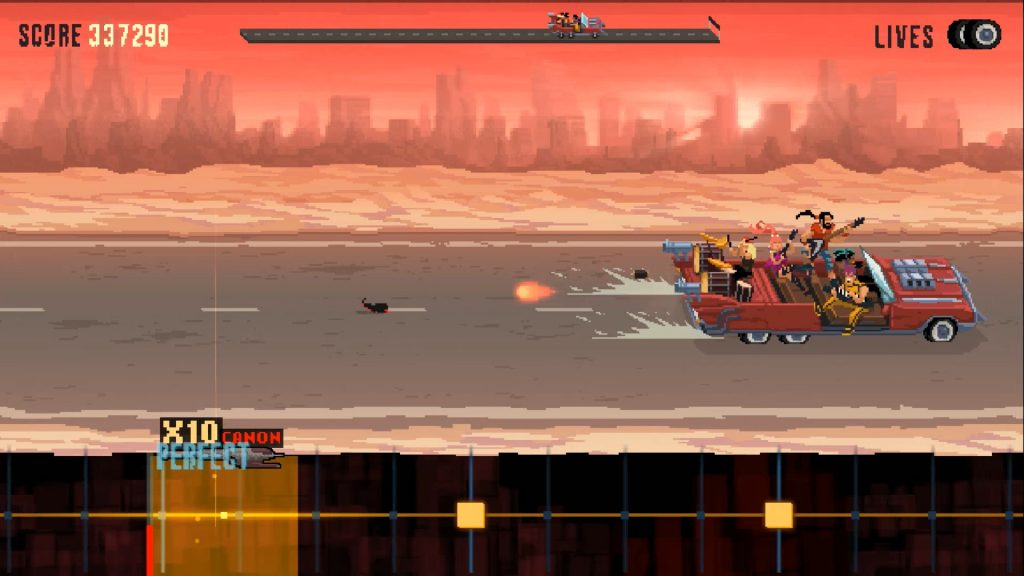 The narrative options, however, do not provide much replay value and once you have seen them, there is really no need to repeat your journey. The story mode is also a fairly open and shut affair. A total of 18 tracks make up the game's story mode which can be slain with little effort. On the first pass. Things do get steadily more difficult as the game throws in extra elements and asks you to steer the band's trusty Cadillac. While this means I've continued to play Double Kick heroes in arcade mode, the small roster of songs prevents the game's band from ever considering a particularly lengthy encore after the opening chapters.
In the end, Double Kick Heroes is a great game but disenchantingly short at the same time. It is a riff on metal culture, nodding to some of the industry's greats, and promising some utterly anthemic gameplay. Thankfully, this appears to be Headband Club's E.P. Double Kick Heroes is in early access and it looks like a fully fledged album is just over the horizon. If you want a change to the perk neon glow of Japanese DDR and EBM based synth track then Double Kick Heroes is worth pressing play for.